Plug-In Review 
RIFT by Minimal Audio
6.8.21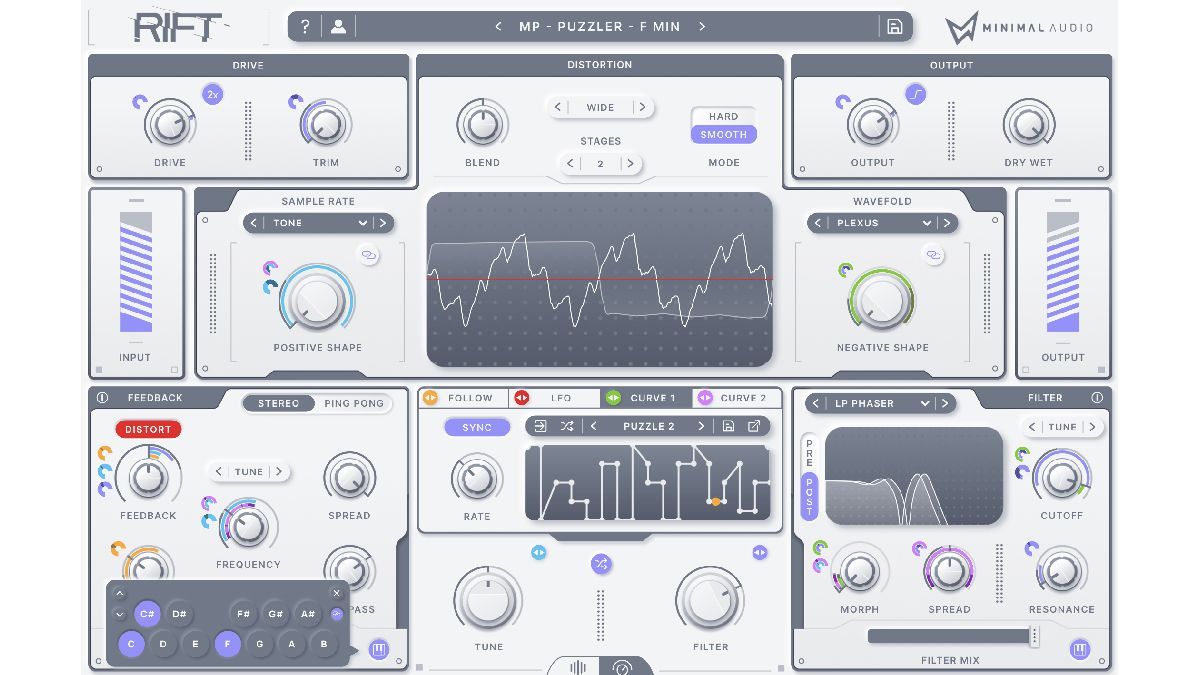 A colleague and close friend of mine, Derek Nyquist (he makes music under the name "Nyquist") recommended this plug-in to me a few days ago. I get recommended plug-ins A LOT by various friends and students, so I'm always a bit hesitant at first . . . it's easier on the wallet that way. Anyway, I know if Derek recommends something, he means it, so I went ahead and bought RIFT by Minimal Audio. Like most plug-ins, there is some time getting used to its user interface and workflow; however, I was immediately impressed after simply running through some of its presets. 
RIFT is marketed as a "hybrid distortion processor," but let me tell you, it is MUCH more than that! It offers 6 stages of processing and has 30 custom algorithms. For me, that doesn't tell me much, but is cool to know nonetheless! Basically, you can split up your processing waveform by the positive and negative portions and effect them separately. This is why you'll see the term "bipolar" associated with this plug-in. Furthermore, you can add a huge variety of filter shapes that can be modulated with RIFT's LFO and/or "Curves." As if that wasn't enough, the plug-in also has a "Follow" action. This can essentially be viewed as an in-house Envelope Follower. There are also some FX onboard, such as reverb and delay. Throw this on an otherwise static bass sound and in no time you will have a moving, modulating glorious mess of a bass to work with.
There is a FREE version of this plug-in on Minimal Audio's website, but the Full Version is currently at a discount. I heard through the grapevine that the plug-in was developed in part by Mr. Bill & Frequent, both of which are masters at their craft. This is a great plug-in to add to your toolkit; it doesn't soak too much CPU and really offers a lot!